Come check out the newly expanded Tolland Public Library on Saturday, April 1 from 11 a.m. to 2 p.m. at its Grand Reopening Celebration.
Christina the Magician and Balloon Entertainer, music by James Burr and a scavenger hunt are just some of the planned events for this family-friendly festivity.
There will also be a demonstration of the 3-D printer, tours of the library, and demos of the library databases. The official opening of the Friends Book Sale room will take place as will the opening of the Business Support Center. The Friends of the Tolland Public Library funded all of the equipment in the Business Center, which includes a color printer/copier/scanner, a laminator, a paper shredder, and other apparatus.
Saturday will also be the official opening of the Maker Space room. The Tolland Public Library Foundation provided the money for the 3-D printer and laptop, a 3-D doodle pen, a light-box for tracing, a slides and negatives scanner/digital converter and equipment to transfer VHS tapes to DVDs.
The library is located at 21 Tolland Green.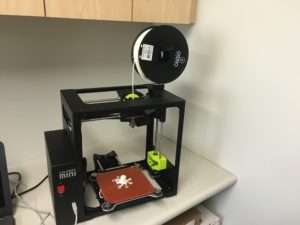 A 3-D printer in the Tolland Public Library Maker Space that was funded by the Tolland Public Library Foundation